It wasn't easy for Rocky Colavito to break into the Cleveland Indians outfield. Not only did they have sluggers Ralph Kiner and Larry Doby in the lineup, they also had Al Smith, who batted .306 and led the team in stolen bases. On the bench were perennial All Star Dale Mitchell, veterans Gene Woodling, Hoot Evers, Wally Westlake, Dave Philley, and Harry Simpson. Every one of them were solid starting-lineup outfielders. In fact, that version of the Tribe arguably had the best group of outfielders ever assembled on one team. So Colavito was way down on the list.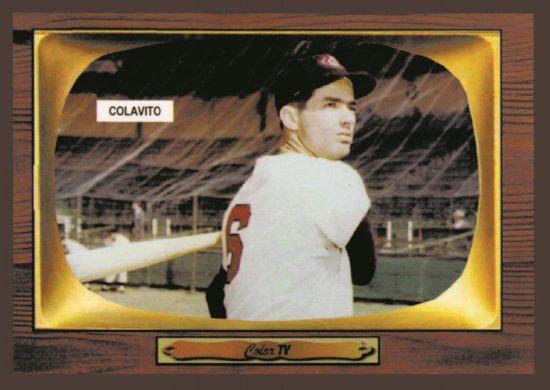 On this card I mention that Rocky was considered for a pitching role because of his tremendous arm. After slamming 38 HRs at Indianapolis, such speculation ended. However, it is a good bet that he would have made an outstanding pitcher. During his major league career, Colavito appeared as an emergency relief pitcher twice, once for Cleveland in 1958 and then with the Yankees ten years later. In 5.2 innings he gave up just one hit and no runs, with a couple of strikeouts.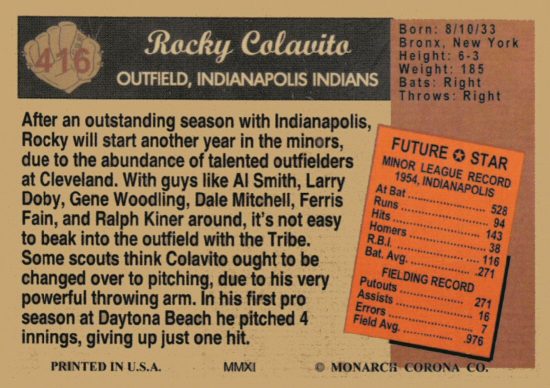 I created this card in 2011, when I made a series of 16 Color TV cards.
Because the size of the cards is small, it's hard to say some of the things that go through your mind when composing the write-up. If there had been room, I would have pointed out that Rocky had just been married. I might have mentioned that his best friend was rookie pitcher Herb Score.