I made this card about 5 years ago, in 2014 when I did the Classic series. The fronts are obviously 1970 Topps style. The backs are '56 Topps style. I wasn't trying to make anyone's head explode, I just really like both of those designs. And I don't care much for the backs of the '70 Topps, the yellow and blue backs. They seem garish to me. If I ever create a similar design, the colors will be changed or toned down some, maybe navy & tan instead of blue & yellow.
Nolan Ryan grew up about 15 miles away from me, and he is a hometown hero. I've actually net him twice over the years, and he comes across as a good ol' country boy.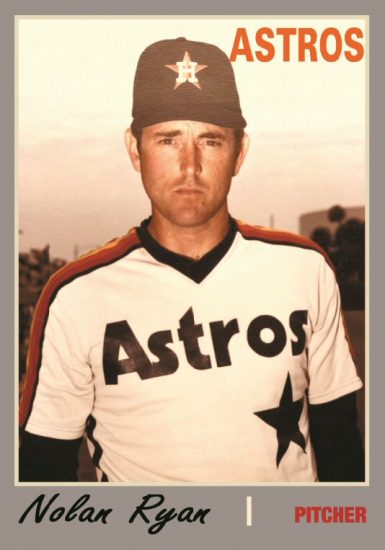 The 1981 baseball season was a train wreck. Over two full months were lost due to a players strike. The NL West team with the most wins, Cincinnati, was not even in the playoffs. Neither was the NL East team with the best record, St. Louis. In the AL West, the Royals finished 4th with a losing record, yet made the playoffs. In the AL East, the Yankees finished in 3rd place and made the playoffs.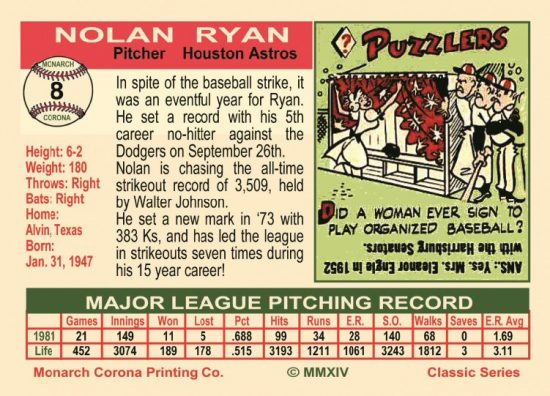 But 1981 was a big year for Nolan Ryan. He had finally come "home" to pitch for Houston the year before. He had also become the first million dollar per year player. He had reached 3,000 career strikeouts, then added his 5th no-hitter and his first ERA crown.
During his career Ryan pitched for all 4 of the original expansion teams: Mets, Astros (Colt 45s), Angels, and Rangers (Senators). Among the many records he holds is giving up the most grand slams during his career – 10 of them. Another is that over his entire 27 year career, opponents batted a measly .204 against him – the lowest in MLB history!