Here's one of my favorite boxers, Jack Dempsey.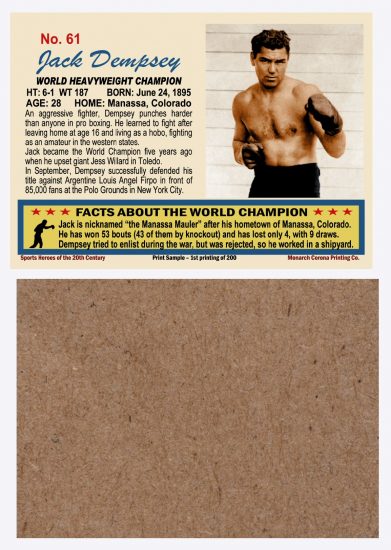 I made this series of cards in 2010 after I found some really nice pasteboard stock with a manila back, the same pasteboard that was used to make the old Post cereal boxes. They are the only "blank back" cards I have ever made. I was tempted to put something on the backs, but it just didn't seem right, so I left them in their natural state, like the original Post cards were.
In those days, you would cut the cards out of the box. The back of the box had 7 cards on it, taking up most of the back panel.
There were 3 problems with this method of distributing cards:
First, impatient kids would cut up the box before the cereal was eaten. So you'd have this box filled with cereal, with most of the back completely gone, sitting in the middle of the breakfast table. The cereal would fall out of the gaping wound, and mom would gripe about it.
Second, you've got kids playing with sharp objects to remove the cards from the box, and kids don't cut straight. They are likely to cut themselves, maybe even opening up an artery. Even if they avoid injury, kids tend to do a poor job, especially when they are using a steak knife or pocketknife. All you have to do to see how this turns out is look at some of the miscut Post baseball cards on eBay.
Third, and of greater importance to the cereal company, you could look at the box and see which players were on it. So kids who accompanied mom to the grocery store would pull every single box off the shelf, looking for Mantle, Koufax, Maris, or Musial. Nobody wanted Hal Smith or Al Spangler. So the boxes with mostly "commons" piled up on supermarket shelves. Post had about 200 players in each series. They probably should have just picked a few dozen players, or two from each team.
I have to admit that I toyed with the idea of making a die-cut for these cards, to intentionally make it look like a hand cut card, the way most of these cards actually appear. I only gave up on that idea because I don't like artificial "damage" to cards, and I felt like it was nearly the same thing.