My name is Bob Miller, and I started off in the printing and publishing business as a journalist in the US Navy back in the late 1960s. But I made my first baseball card well before then. My brother and I had invented a baseball game that used dice and baseball cards. Our teams were made up of the players we had cards of – so we held a "draft" to create our teams.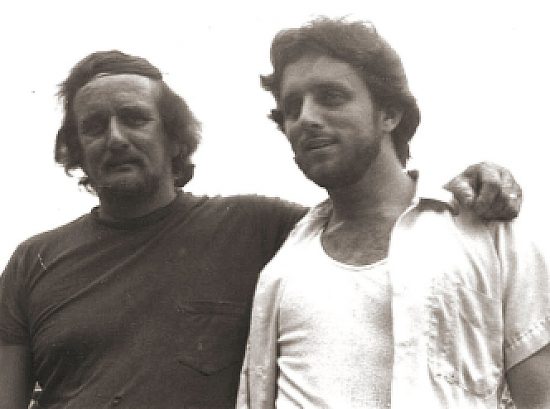 At that time, neither of us had a Willie Mays card, and he was the best player in baseball. So I found a glossy color picture of Mays in a baseball magazine and glued it to a piece of cardboard salvaged from a cereal box. I put it in the family typewriter and typed something on the back, I'm sure it was mostly stats. Then I carefully trimmed it to a perfect 2.5 x 3.5 inches, and that evening Willie Mays started for me in center field!
After my service in the Navy, I worked for various newspapers as a writer, editor, art director, typesetter, and operated many different kinds of printing presses. In the early 1980s, I bought a used Multilith printing press and launched a sideline business in my garage called Miller Press Printing in Galveston, Texas. My dad and brother were early partners and investors in the business.
At that time, print jobs were sold using samples. You would show a prospective customer some samples of your work, so he could see what his job was going to look like and feel like. Without samples, you couldn't sell printing services.
One day while printing a poster for a music event, I noticed that the size of the finished job was 11 x 14 inches. The cardstock I was using was a standard 11 x 17 inches, so there was an extra 3 x 11 inches that would be trimmed off and thrown in the trash. I hated to see that 3 inches go to waste, and realized there was just enough room to throw on a couple of baseball cards, which I could trim and use as print samples. That's how I started making baseball cards as print samples. Over the past 35 years, I would estimate that I have created and printed over 1,000 different cards. It sounds like a lot, but it's only about 2 cards each month. The best part of it is that this is cardboard rescued from the trash bin and turned into something beautiful – it's a form of recycling. As a printer, I have always jokingly referred to myself as a "tree killer" because printing does in fact kill trees. So any time I can conserve a little, it gives me a little bit of consolation for my crimes against nature.
Eventually, I found myself publishing several community newspapers, which is a different kind of printing. The newspapers were successful, but the Miller Press side of the business never went beyond 3-4 employees. But the print samples were very popular. Later, I upgraded to an AB Dick press and started a new commercial printing business, which I named Monarch-Corona. The new press did beautiful work, and was much more efficient than the old Multilith dinosaur had been. We printed millions of flyers, postcards, posters, and sales materials over the years. The business became pretty successful, even though we never had a storefront, we just operated in a warehouse with a couple of outside sales people. We added Lone Star Printing and Vintage Litho as brand names. After running these businesses for a few years, I sold the company (except for one of the community newspapers) and retired. Later, after the new owners went broke, I bought it back from them. So now I own Monarch-Corona Printing again, printing jobs for existing customers and local businesses. I admit that I charge a little more than most offset printers, but my work is usually flawless and of the highest quality. I am still mostly retired, and not trying to create a big company. Working one or two days a week and having two long-time employees is just fine with me.
I still hate to waste paper, especially good solid card stock. It is a needless killing of trees. So I still make up a card or two in the trim area whenever I can. I have a few rules that I abide by when making cards:
First, I never reprint any card I made in the past. I don't make a variation either. That is what the big card makers call "parallel versions" in which they print the same exact card, but change the background color. They make fewer of certain colors to make them more valuable. I don't agree with that. Suppose there were 100 different versions of the Mona Lisa, each slightly different. Would it increase the value? So I only make one printing of any given card, and that's all. If a card comes off the press and has any defects, it goes into the trash. My guess is that close to half of them end up in the waste bin because of various problems. The ink, finish, centering, color, and content all must be right. Only 200 of each card are kept. It's easy to keep track of, because 200 cards fit inside one size M-1 box. I keep one box, and that's it. The most of any card I have printed is 300, the serial-numbered Fan Club series. The least is 50 of each card, the serial-numbered Heritage Series. But 99% of my cards are printed once, and only 200 are made. One of the most important factors in making a card valuable is scarcity, and 200 is extremely scarce.
Second, I do not make cards of current members of the Players Associations. They have an agreement in force with Topps, and making cards of those players is against the law. I know there are people making inkjet cards of these players, but they are still illegal. I make cards of vintage sports heroes. Now I know that in theory, Lou Gehrig's estate is entitled to a share of the proceeds of any card using his likeness. With only 200 cards, their share might come out to less than $10. If they asked, I would be proud to pay them. I don't think they care, as long as he is being respected and no one is making a ton of money on it.
Third, I use traditional offset printing and traditional ink. The cards I print will still be legible 1,000 years from now. The same cannot be said for cards printed using water-based ink. The digitally produced inkjet creations will blur and fade long before they can get old enough to have value. I don't like soy-based inks either, they tend to eventually fade.
Naturally, it irritates me to hear my cards included in any discussion of ACEO cards and other "custom" cards made on a home computer and inkjet printer. Most of these are ugly, flimsy, and lack creativity. And because they aren't made on a press, they are "print on demand" with an endless print run. That makes them worthless. I've seldom seen one with a professionally written back. The back of the card is important to me.
Fourth, I like to tell a compelling story with each card. My cards are set at a specific time in the player's career, and written in the present-tense. Instead of saying "Ted led the American League in Batting Average in 1948" my card is dated 1948 and says "Ted is the top batter in the A.L. this year." The present tense is always more interesting. There is a lot of difference between "the house WAS on fire" and "the house IS on fire!"
And finally, a good card is going to do no harm. No harm to the athlete, the sport, or the hobby. People who make unlicensed "rookie cards" of the current players every year are harming all three. They dilute the market and cause confusion. Baseball cards should do no harm.
I give away free cards to local benefit auctions, especially for Little League fundraisers. After the print samples have piled up for awhile, I turn them over to a grouchy old man, who sells them online and to a repackaging company in Austin (they make and sell packs), then pay me my share. It's sometimes enough to pay for my bait and gas to go fishing!
Please don't contact me about buying cards or finding them, I don't fool with that part of it. I don't care if these cards have any book values or if they are recognized by the "experts" in the hobby. I just enjoy making the very best cards I can – cards that people can look at and feel happy about. My goal is that the Monarch-Corona cards be everything a baseball card should be: Low quantity printed, beautiful design, well-written back, historically accurate, informative and interesting, printed professionally on the best stock, and made to last forever. Cards that meet those criteria are going to be worth something to somebody no matter what the experts say. Although I have never had a card graded and know little about the process, I was pleased to find out that the world's largest authentication company, PSA, has accepted Monarch Corona cards for grading, and they are listed in the PSA registry. It took 50 years for them to accept the Berk Ross cards as legitimate, so Monarch-Corona is ahead of schedule.
Will MC ever "go big" and start mass producing our cards? No. They are print samples, and you just don't need millions or even thousands of them. I like the idea that they are very scarce starting on day one. I like the idea that there are no parallel issues. This elevates the lowly baseball card into the realm of art. The best impact these cards have had is that the design team at Topps seems to be "borrowing" ideas from them, and thus making some better cards. This is a good thing. When Topps makes better cards, the hobby as a whole benefits.
The supreme test of a sports card is whether or not it has any appeal to the young fans out there. This is a product that was first created for kids, and the ideal card is going to be liked by youngsters who develop an interest in the rich history of baseball.
I am going to try to add a new post to this site as often as I can get around to it. I hope you enjoy seeing these cards.