After spending most of the last several years goofing off, I have decided to make some more Monarch Corona cards. I doubt my legacy is ever going to be about the fish I have caught or even the newspaper stories I have written over the years. The thing that becomes your legacy is more likely to be your passion – and mine is still baseball cards after all of these years. And since I am mostly retired, there is time to dabble in the cards. Plus, we do actually need some fresh print samples.
So I have decided to make a new series called the "Majestic Series" and one of the guys I'll start with is Frank Howard: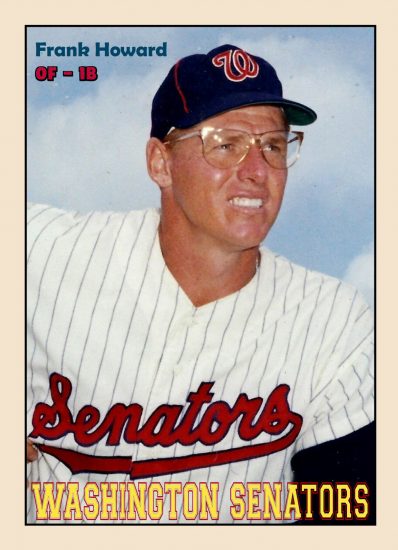 Opposing pitchers were scared to death of Frank Howard. Among those was Sam McDowell, ace starter for the Indians. Twice during the 1970 season, with Howard at bat for the Senators, McDowell was switched temporarily to 2nd base in order to avoid facing big Frank! Sudden Sam's averse reaction to Howard blossomed during the '68 season (ironically the Year of the Pitcher) when Frank went 8 for 12 against McDowell with 3 HRs and 8 RBIs. Sam walked him six times that season, as Howard compiled a 1.750 slugging percentage against the Tribe's ace.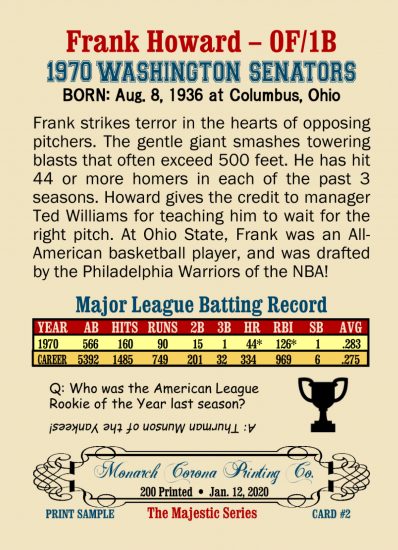 Frank Howard was a very large guy, about 6-7. Although by all accounts he had a very kind and gentle personality, he could knock a horsehide well into the middle of next week. Originally a Dodger, Frank was the National League Rookie of the Year in 1960. He did pretty good in Los Angeles, but he was dissatisfied there and told the team he would retire from baseball in the spring of 1964. They talked him into staying another year, then swapped him to Washington for Claude Osteen after the '64 season. As a Senator, he became a legendary slugger.
This card was printed January 12th of 2020 on the AB Dick press. I made 200 of them, and some have been added to our printing sales kits. In honor of Frank, we have also donated $100 to St. Jude's Childrens Research Hospital, a charity Frank has been active with for the past few years.