This card was actually created by my Dad, Tom Miller. He loved Whitey Ford. I thought of this one when I heard yesterday that Whitey had passed away.
We printed this one at least 15 years ago.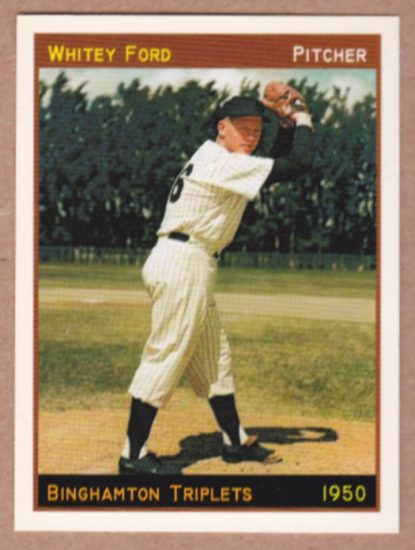 Ford was a wily pitcher with great control and very cool under pressure. He didn't "dominate" hitters like a Koufax or Gibson, he just beat them. He was a frustrating pitcher to face, because he never gave you what you wanted. He knew who could hit the high ones, who could hit the low ones, and who could be suckered with a low outside throw. He wasn't the kind of man who made the same mistake twice.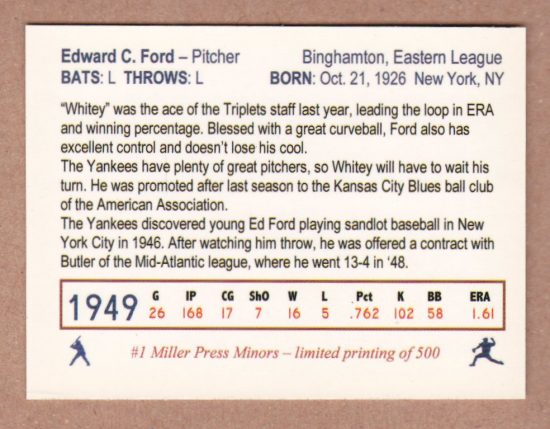 Of course he is in the Hall of Fame. But in the pantheon of great Yankees, he is overshadowed by other names, the men who swung the clubs. It shouldn't be forgotten that the historic run of great Yankee teams through the 50s and into the 60s could not have been accomplished without the steady left arm of Edward C. Ford. He appeared in 11 World Series and was an All Star 10 times. His career earned run average ERA of 2.75 is the best of all pitchers with 200 or more victories.
Hearing about how he passed away while watching the Yankees playoff game brought a tear to my eye. That's how he wanted to go.
Rest in peace, Whitey Ford.