Dr. Archie Graham was a footnote until Burt Lancaster portrayed him in the hit movie "Field Of Dreams" in 1989. The movie was based on the best selling book "Shoeless Joe" by W.P. Kinsella, which was published in 1982.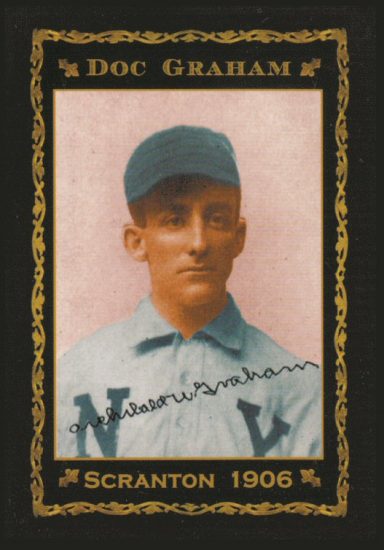 Graham played minor league baseball during the summers while he worked toward his medical degree, which he obtained in 1905 from the University of Maryland. He played baseball and football during college, and was a starting halfback on the gridiron.
Archie came from a family of high achievers. The second of ten children raised in Fayetteville, North Carolina, his brother Frank served as a US Senator and as President of the University of North Carolina at Chapel Hill. Evey one of the children born to Alexander and Katherine Graham obtained a college degree, including three sisters.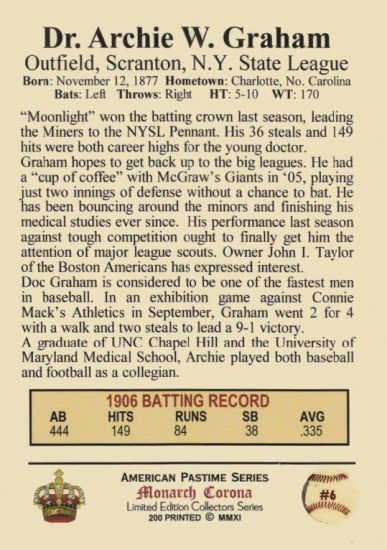 I printed this card in 2011, about 8 years ago, and it is one of my personal favorites. Maybe because I loved the movie, but also because Graham was such a great man and a hero long after his baseball days were over. He was a beloved pediatrician for over 50 years in rural Minnesota.
The image I colorized is the only decent picture of Moonlight Graham as a ballplayer that was known to exist, so I didn't have to choose which picture to use. Since then, a picture of Graham in a Scranton uniform has surfaced, but it is a little blurry: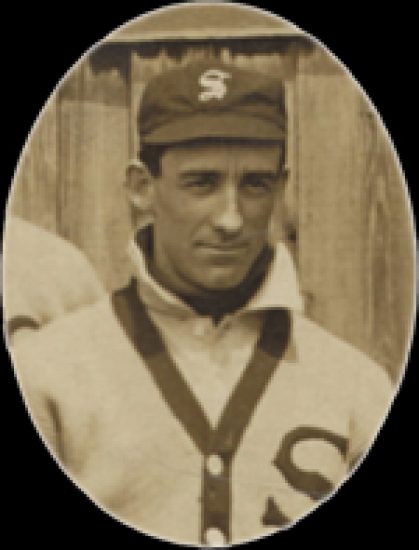 I might someday make another card of Doc Graham. If so, the picture above will probably be the one I use.